Discussion Starter
·
#1
·
as promised, here's some pics of the of a morph from plane Jane RIA GI to what I had strapped on my side today
first, ya'll have seen a Rock GI, I s'pose, but if not, this is what they look like.
I bought this about a year ago
she's been reliable and trouble free right out of the box thru 3500 rounds.
However, i bought this gun (my second 1911) to do mods and learn the platform.
I installed a Wilson drop-in beavertail shortly after getting the gun
(but didn't take any pics)
Really wasn't much to it.
Just install, then took some metal off to blend better with the frame and tangs
this latest batch of mods were more detailed and I wanted a "one off" pistol
first was the dehorn/semi-melt.
Little more than a belt sander, and finish sander was used.
I didn't take any pics, cause it was just rip and go, then smooth.
Same was done to controls, then polished
Then the Bobtail.
An Ed Brown stainless Snake Skin pattern
cut, file and finish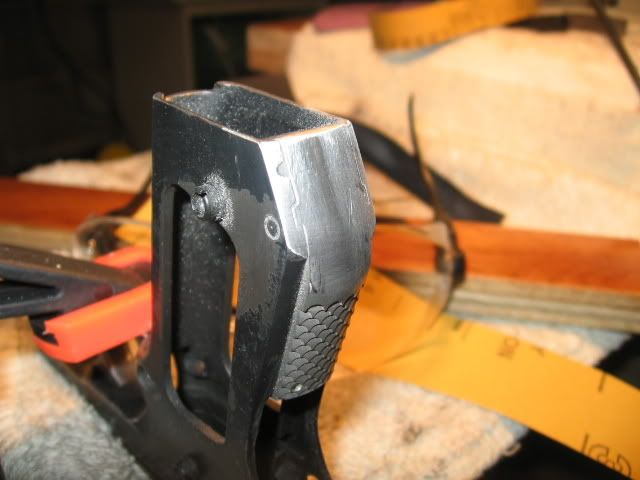 on to the slide and sights
a HUGE UGLEEEEEEE monstrocity is what i started with
I really didnt think I could do a thing with them, but since they were cheap....
I grabbed the sander and files and started wacking
they looked much to me now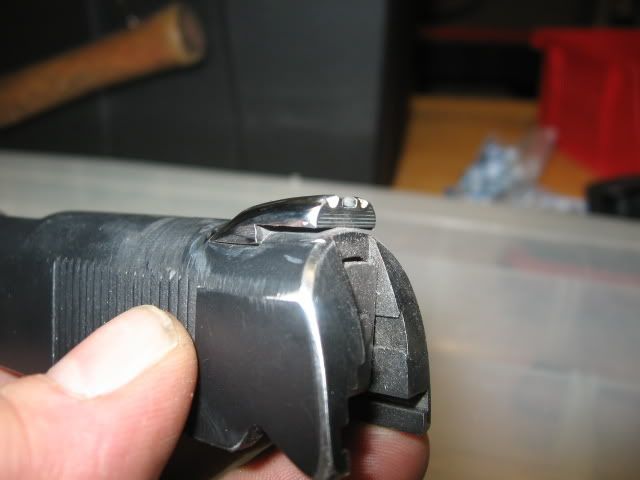 After shooting from the bags to zero sights, I filled in the gaps with ColdSteel (an epoxy similar to JB weld) filed and sanded smooth.
here's the final results after Duracoat
now for Duracoating.
I had done this twice, so I knew the drill.
THOROUGH degrease, then tape off critical tolerance areas.
tools of the trade.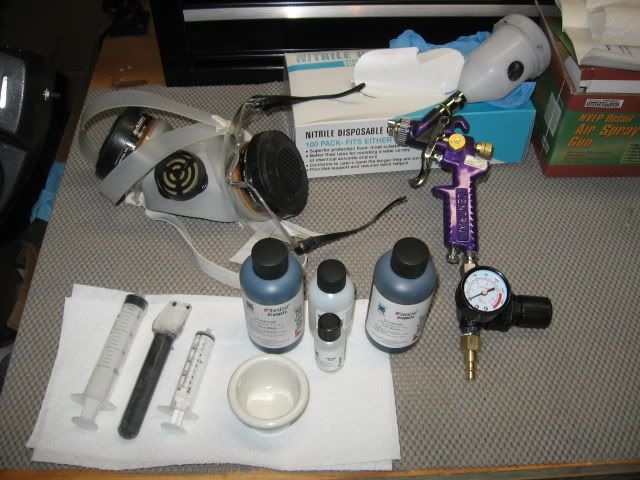 I found that liquid med despensers work great for measuring Duracoat.
The animal syringes work great for small accurate measurments of hardner and reducer.
They can be bought for cheap at most farm supply or feed stores.
My "spray booth"
The "paint job" has been competed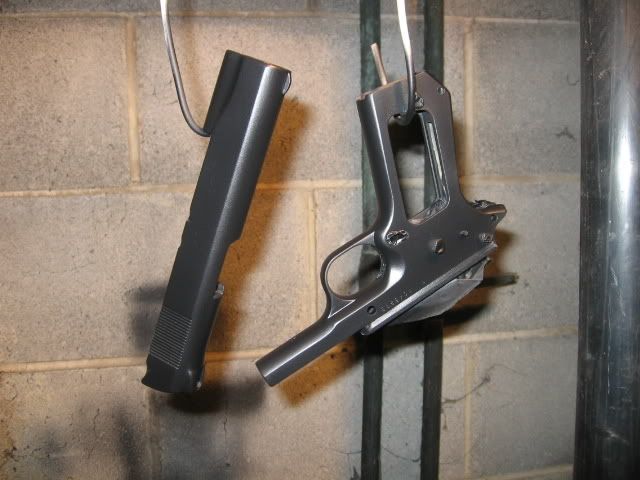 I assembled the gun, and just wasn't happy with the looks.
It was still to "plain" looking.
Out came the sander, and i wiped the slide flats clean.
Then a couple hours of finish sanding (220grt, to 400 to 800) and polishing with jewelers rouge and felt wheel on the dremel.
Did a quick rip on the grips to the bobtail profile and called it good for "now"
I carried the fruits of labor all day today
I'm rather pleased with my carry creation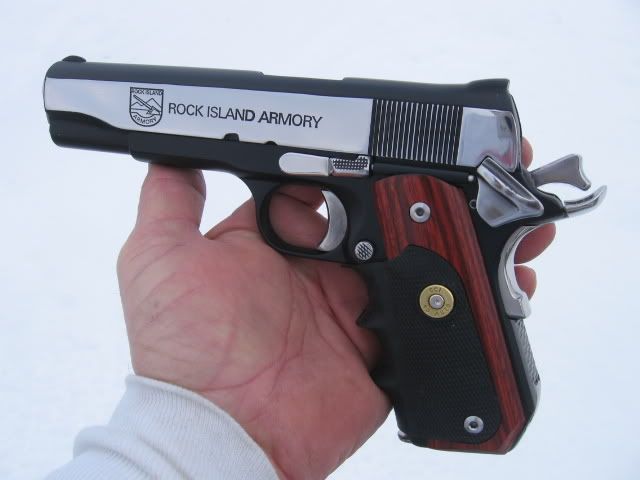 ..L.T.A.