Okay, here we go!
Just a refresher before we get into the items for auction.......
This auction benefits the Freedom is not Free charity which is a not for profit organization helping seriously wounded troops, or their families in the event the soldier is killed. A very worthwhile thing to support! Our troops put EVERYTHING on the line every day because it's the job they signed up for of their own free will. I've never met one who wanted anything other than to be remembered and a thank you. I encourage you to visit the site
http://www.freedomisnotfree.com/
and see for yourself what we're supporting here. Every penny from this auction will go to the charity.
My thanks to Jerry for allowing us to this here. Thanks to Primersinmyshoe for donating his time and effort in collecting and forwarding the funds to the charity. Of course, my thanks to those who donated items for the auction!
Brock at Bluegrass holsters, Jeff at Boom-Stick holsters, Azmick, and Garlic Guy. Let's make this a success!
Okay, now for the details. All items will have an "Item #". Please use this when placing a bid in a post. At the close of the bidding (8:00 pm Central time Monday August 25th) I will record the winners. Probably on Tuesday, I will contact those winners with Primersinmyshoes address so they can mail the payment to him. Payment should be in the form of a check or money order made out to "Freedeom is not Free" so that all he has to do is put them in a package and mail them to the charity. Once he notifies me that payment has been received, the right person will bo contacted and the items will be sent out to the winners. Fair enough? Okay, let's get to the items up for auction......
Item #1 - A Case two blade folding knife donated by AZMick
Item #2 - A right handed "Mason Dixon" Commander size holster for a 1 1/2" belt with extreme cant. Can be either IWB or OWB. Donated by Brock of Bluegrass Holsters.
Item #3 - A right handed Commander length OWB 1911 holster for a 1 1/2" belt with a black throat and brown body. One of a kind! Donated by Jeff of Boom-Stick Holsters.
Item #4 - A CASE of BBQ sauce donated by GarlicGuy. You'll have to ask him for details on this, as I'm sure there are different flavors and such. MMMMMMmm good!
Item #5 - A set of Corian Government 1911 sized grips in "bone" color. Looks alot like Ivory. Donated by Sarge's Grips.
Item #6 - Right handed "Mason Dixon" right handed Commander size 1911 holster in "normal" cant. Can be used either IWB or OWB. Dontaed by Brock of Bluegrass Holsters.
Item #7 - Right handed OWB holster made for Government sized 1911. Sized for 1 1/2" belts with 15 degree cant and a beautiful tan throat with black body. Donated by Jeff of Boom-Stick holsters.
Item #8 - A very nice set of Bobtail 1911 grips in Birds Eye bocote. Very cool! Donated by Sarge's grips.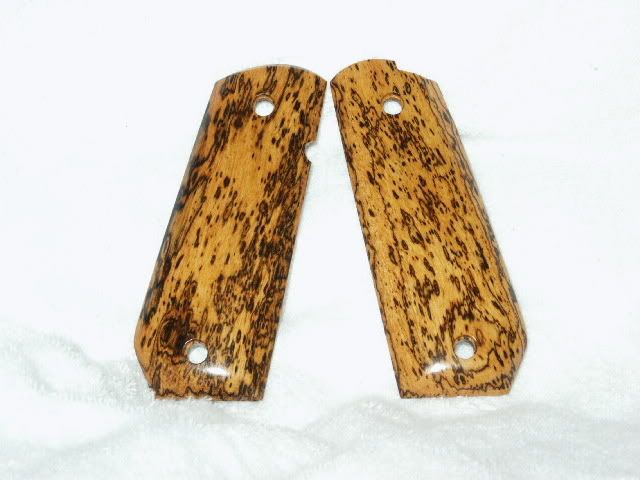 Item #9 - A left handed Mason Dixon Holster for 1911 in your choice of color, size (gov, commander, compact), and cant. Donated by Brock of Bluegrass Holsters
Item #10 - Your pick of any set of grips on my site at auction's end.
www.thefinergrain.com
Donated by Sarge's grips.
Item #11 - A custom set of 1911 grips for your weapon. Your choice of wood, finish, size etc. Donated by Sarge's grips.
There you have it! 11 outstanding items to bid on! Now, let's get busy and make a positive difference in someones life!
You may begin bidding.
Sarge