Discussion Starter
·
#1
·
I just sent a check for a like new Springfield Custom TGO-1. I actually had a lead on this last month, but the owner was out of town with an emergency (long story). Either way, I should have it next week. I don't own a Springfield Custom and I found the best one at a good price. I have handled a TGO-1 in the past and they are nothing short of amazing, as are most Springfield Custom shop 1911s. However, the Robar Roguard and NP3 finish combo on this particular model is incredible.
I can't wait to fire it.
Specs:
Designed by 4-Time World Champion Rob Leatham, this full custom pistol, completely hand built, comes directly from the Springfield Armory Custom Shop. Known for their award winning pistolsmiths, under the direction of David Williams, the TGO 1 is the highest quality pistol available in the Legend Series.
Specifications:
Robar Industries Ltd. Bi-Tone Finish
Slide: Roguard Proprietary Black Finish
Frame: NP-3 Proprietary Nickel/Teflon Finish
Robar Industries Ltd. Lifetime Certificate of Authenticity
Deluxe Low Mount BoMar Fully Adjustable Rear Sight
Dawson Fiber Optic Front Sight
National Match Lightweight Adjustable Speed Trigger
Smith and Alexander Hand Checkered Flat Mainspring
Housing with Magwell
Hand Checkered Front Strap 20 LPI
Nowlin Match Grade Throated Barrel and Bushing
Titanium Firing Pin
Forged Frame and Slide
Carry Bevel Treatment
High-Hand Beavertail Grip Safety
Ambidextrous Thumb Safety
2 Sets of Grips:
Leatham Legend Signature Laser Engraved
Thin Lined Cocobolo Smooth Wood
Black Macarta Double Diamond Grips
Torx Head Grip Screws
Springfield Custom Delta Tool Steel Hammer and Sear
National Match 2 Piece Full Length Stainless Steel Guide Rod
Lowered and Flared Ejection Port
Extended Ejector
Extended Magazine Release
Lifetime Warranty
Custom Aluminum Case
Unique Legend Series Markings and Serial Number
Certificate of Authenticity
Letter From Rob Leatham
Autographed Picture From Rob Leatham
Autographed Target Shot by Rob Leatham
Pics of the actual gun I'm buying. I'll show some more pics when I get it.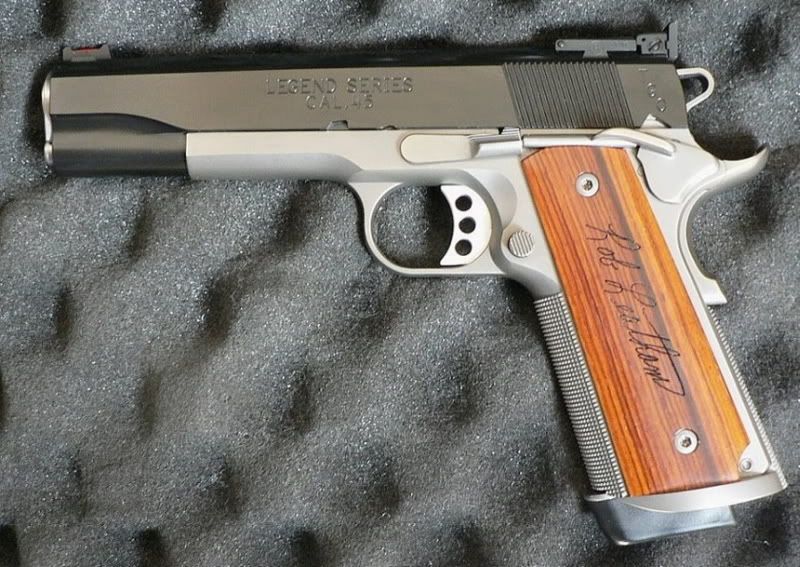 I know a couple of you have one. What do you think?