Discussion Starter
·
#1
·
first off, I'll credit this site and this fellow's instructions.
It's where I started and was a valuable resource to me.
If you're an experienced wood worker/crafter, it's all you'll need
http://www.1911pistolgrips.com/process.php
If you're an ameture/hobiest wood worker or just a tinkerer and would like to try "rolling yer own".....go ahead and do it.
Read the link posted above and read my thread, and I'll bet a nickel you can make a sevicable pair of grips
Tools needed;
Drill press
15/64" drill bit
9/32" drill bit
Belt sander with rough grit and fine grit belts
saw
dremel
set of finished grips.
Sand paper
wood finish
I used many other tools as well, but I don't know how it could be done with out those tools on hand
I'll try and be somewhat brief,
cause the link above is good and I ain't re-inventing the wheel.
i did deviate a bit from his proccess though
I'll start here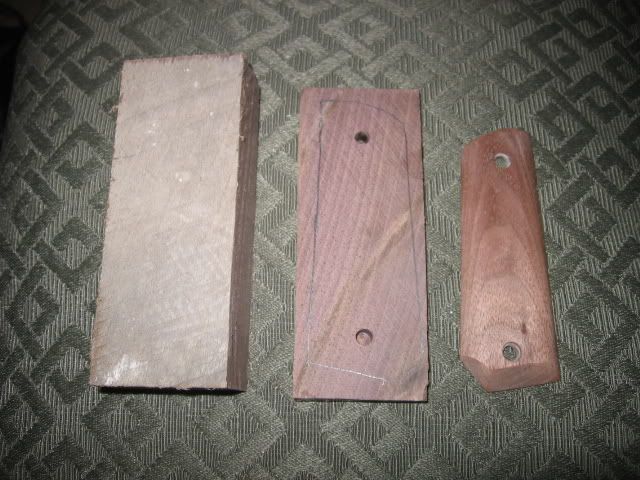 wood needs to be well seasoned and dry.
On left is a chunk i cut off of a rough cut walnut board.
Appx 1.75" x 5" x 1 1/4" thick
I used my table saw to rip it into 3/8" thick "scales"
then using stock grips, i traced the cut lines and drilled the 15/64" holes.
getting holes drilled right is critical.
I tried this method
but i just couldn't get them "perfect".
So used the stock grip and double faced tape to stick them together, centered the drill bit through the stock grip hole, then clamped it to the drill press.
Once the holes are drilled, take the stcky tape off at test fit on the gun.
You can use the right of the gun to test both grips
(cause the left grip won't fit down yet because of the plunger tube)
but the holes are the same distance, so if the left grip fit goes over the right side bushing, it will on the left side too, once the plunger relief cut is made
if grip fits, it's on to the saw.
I used a scroll saw, but jig saw would work.
Scroll or band saw will just be much easier.
Leave the trace lines showing for final belt sand shape and fit
belt sand back of grip to get 1/4" thickness.
I use my dial calipers and measure at four corners while sanding.
Once that's achived, back to the drill press for the back side counter sink w/9/32" drill bit.
Center drill and just a little itty bitty deep counter sink is all you need for the back side.
Just enough to fit over the bushing bottom.
Test fit that it fits flush to the frame.
Use the bottom bushing.
If it fits flush there, it will on all the others too.
Now another critical cut is needed for the left side grip to allow clearance for the plunger tube.
I used a cutting wheel on the dremel
They tell me the grip should help support the plunger tube, so test fit as you're hacking away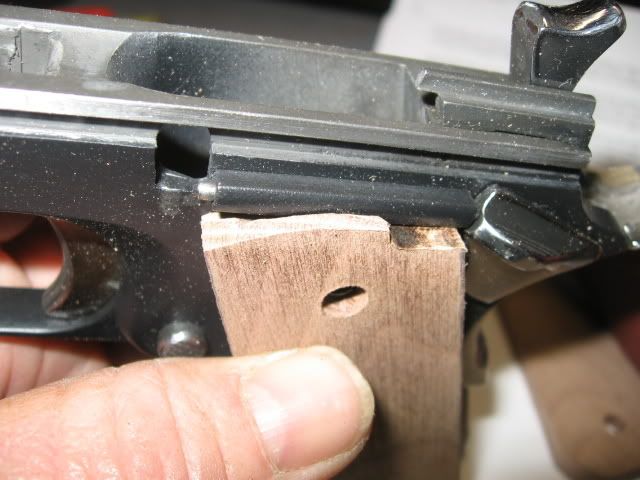 If you did it right, it should end up looking "something" like this after fishing shaping/sanding
Now use a dremel to cut the mag release relief on rt side panal.
dremel relief for MSH pin now too, if preferred.
MSH relief for left side too
Finish shape
(top pic, right)
i found double sided taped to a small block made this proccess easier.
fine grit belt on the sander, and "eye ball" the shape and contour as you "roll" the grip to profile.
This is also where i get finish the sides and bottom.
Go slow and test fit, so you don't mess up
(like I did here)
next comes the counter sink for the grip screws.
Center bit, clamp and drill.
Use a grip screw for test to get the depth right.
now the final finish sand.
a finish palm sander takes all the work out of it.
I started w/220 grit to sand all scratches from the belt sander.
Then when to 500grt and finally 800grt
Finish wood with what ever wood finish you like.
So far I've used wood stain, urathane and yesterday I tried toung oil
give it shot, what do you have to loose?
Nothing but a few hours time and a buck's worth of wood
(if you start with domestic hardwood)
you might end up with something like these
...L.T.A.